Senior Associate, Project for Public Spaces and Program Manager, Southwest Airlines' 'Heart of the Community' Program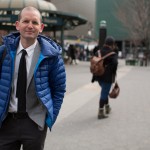 Philip Winn is a Senior Associate at Project for Public Spaces and Program Manager for the Southwest Airlines 'Heart of the Community' program. He has helped develop and implement multiple 'Lighter, Quicker, Cheaper' projects at PPS including Belle Isle Summer Saturdays (Belle Isle, Detroit) and the Imagination Center (Burnside Park, Providence, RI).
Prior to joining PPS, Philip worked as a project manager at OpenPlans where he coordinated a series of transportation advocacy projects in collaboration with OpenPlans' founder Mark Gorton and the staff of Streetsblog and Streetfilms.
Previously Philip worked as an Art Director and Art Dept. Coordinator in the New York film production community. He worked on a wide variety of projects including director Noah Baumbach's feature film Margot at the Wedding and photographer Gregory Crewdson's Beneath the Roses project. 
Philip holds a B.A. from Columbia University where he studied English literature. He attended the Yale School of Architecture where he cemented his passion for the intersection of urban design and culture, learned how to draw, and built a house.