Director, Corporate Responsibility, KPMG, LLP.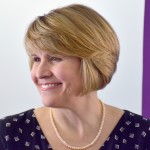 Anne Gross is an experienced director with KPMG's Citizenship team and currently leads her firm's investments in lifelong learning with Junior Achievement, NAF and Enactus.  She has over 20 years of experience as in grant making and community engagement, both a practitioner and advisor.  Anne has worked with and for corporate giving programs, grant making public charities, universities, private foundations and volunteer service organizations; she works with organizations on local, national and global levels.  She has extensive experience in project management, employee engagement and process design & improvement.
Anne recently earned CREI (Corporate Responsibility Executive Institute) designation from Notre Dame University. She also holds a master's degree in Education and a B.A. in Political Science from Indiana University – Bloomington.  Anne is active in the Chicago community – consistently serving on one or more nonprofit boards.  She is passionate about education and experiencing new cultures.