Treasurer, City of Chicago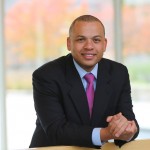 As Chicago's newest Treasurer, Kurt Summers is the steward of the City's $7 billion dollar investment portfolio. Serving as the City's investor, banker and advocate, Treasurer Summers strives to empower young people, workers and small business owners, as well as support innovative programs that promote economic growth and financial education. The Treasurer also sits on five local public employee pension boards with nearly $25 billion under management.
Upon taking the oath of office, the Treasurer launched a comprehensive plan to identify potential opportunities to better serve the people of Chicago. To guide the plan's implementation and ensure each neighborhood's concerns would be addressed, the Treasurer visited each of Chicago's 77 communities in 77 days.
During his first few months in office, Treasurer Summers launched the City's first-ever comprehensive financial education network as well as an initiative that will help create significant savings on the annual investment fees for all of Chicago's 11 public employee pension funds.
With nearly 15 years of experience in financial services, the Treasurer began his career at McKinsey & Company. Most recently, Summers was a Senior Vice President at Grosvenor Capital Management. Previously, Summers served as Chief of Staff to the Cook County Board President Toni Preckwinkle and also as Chief of Staff for the City's 2016 Olympic bid. A lifelong Chicagoan, Treasurer Summers is a graduate of Chicago Public Schools. He received a Bachelor of Science in Business Administration from Washington University in St. Louis and holds a Master of Business Administration from Harvard Business School.