Business Development Manager, Office Depot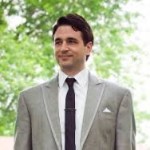 Jeremy's passion is to help design better systems for solving the complex,
interconnected challenges the world faces in the 21st century. This pursuit leads
Jeremy to Office Depot where he helps businesses and strategic partners
responsibly purchase goods and services, reduce waste, and be more conscious of
their total impact.
Jeremy is a Member of Office Depot's Environmental Sales Specialist Team,
Partner at the Chicago Green Office Challenge, Partner at the US Green Building
Council – Illinois Chapter, and Member of the Environment & Sustainability Forum
and Logistics & Mobility Forum at the Chicagoland Chamber of Commerce.
Jeremy holds a BA in Political Science from Indiana University. In 2013, Jeremy
participated in the Foresight NEXT Program at Foresight Design Initiative.
Foresight Design Initiative is a Chicago based, multidisciplinary innovation studio
working with diverse partners to understand sustainability challenges and identify
holistic, resilient solutions.
A few of Jeremy's personal interests are practicing yoga, participating in group
fitness activities, collecting antiques, playing frisbee with his dog Maggie, and
eating at Chicago's great restaurants.
www.LinkedIn.com/in/JeremyManion | Twitter @JeremyManion